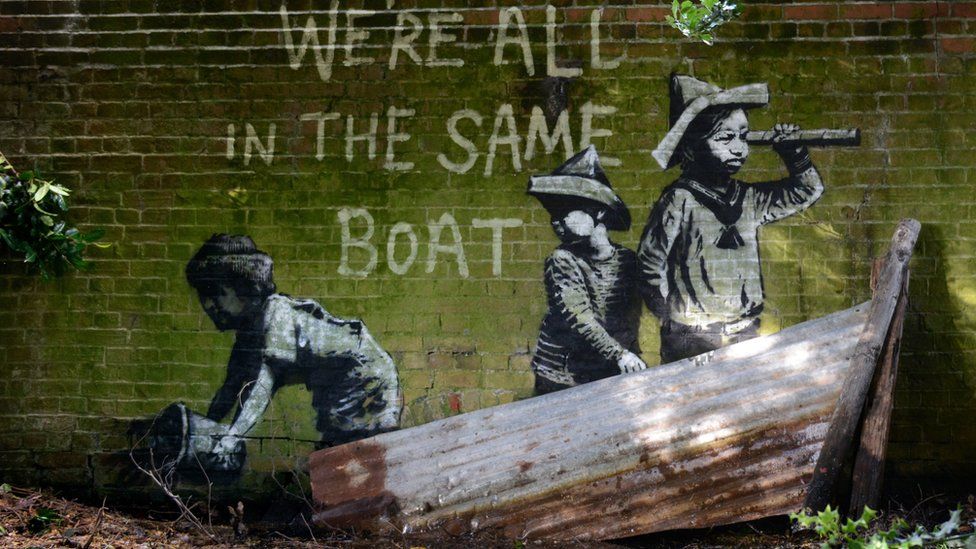 Last August world famous artist Banksy came to Lowestoft. He painted a picture a couple of miles away in Nicholas Everitt Park, Oulton Broad: three children standing in a boat… 'We're all in the same boat'.
Last night of the news they were discussing rising costs… A man, running a foodbank said: 'We're all in the same storm but in different boats'.
Musing… We're in the same storm… shared problems… covid, rising prices, relationships… but different boats… our personal situation… health needs, financial situation, ability to cope.
The rest of the news demonstrated this.
Prime Minister Johnson – under pressure, losing trust, financially secure… The Queen celebrating her Platinum Jubilee – profoundly respected, her sense of duty and service… children and young people with rising mental health problems… Same storm, different boats.
Musing… Two conversations yesterday… Barbara's husband Richard has a brain tumour. He's in hospital but she can't visit him. She's well supported by family and friends but she's anxious about an uncertain future.
Margaret is elderly and frail. She loves meeting people and used to be very active, but hasn't been out for many months. She isn't as strong physically or mentally as she used to be… Same storm, different boats.
Musing… Biblical storms and boats…
Noah's boat building skills and obedience to his God benefited his family and his amazing floating zoo… In the same storm as his neighbours but a different boat… his neighbours had no boat.
Jonah ran away from God. In his boat ride and storm he got thrown overboard; his sailor friends stayed in the boat; his boat became 'the belly of a big fish'!
Jesus, with his followers in a boat slept through the storm. His anxious friends woke him up; he calmed the storm. He's comfortable in the boat and controls the storm.
In my storms I choose to share my boat with this Jesus this morning. Knowing Barbara and Margaret's strong Christian faith I think he's in their boat too.