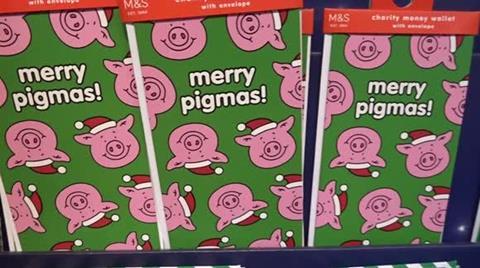 Marks and Spencer have upset some folk with their Percy Pig-themed charity Christmas cards, replacing 'Christmas' with 'Pigmas'.
Some Christians are offended that 'Christ' should be replaced by 'pig'. Others say that card manufacturers wouldn't dare to insult the central figure of another religion… especially Allah or Mohammed…
Christ's name is openly blasphemed on TV shows… Most Christmas cards are nothing to do with faith. Christmas will be over-commercialised. Jesus won't be central to most  people's Christmas. Sadly that's the way it is.
Last night we were at The Seagull Theatre, singing Christmas carols, enjoying Christmas readings. Nick read Thomas Hardy's 'The Oxen'. I recited it with him under my breath. I must have learnt it many years ago:
'Christmas Eve, and twelve of the clock.
'Now they are all on their knees,'
An elder said as we sat in a flock
By the embers in hearthside ease…'
Hardy had lost his Christian faith, but he remembers the nativity scene, the old tradition that oxen and other animals knelt in homage before the newly born Christ-child. He sees in the ancient story wonder, mystery; he searches for truth….
Shashi Ghalan works for Tearfund in Nepal:'I have been giving gifts to my nearest and dearest every year on their birthdays, but I have never offered a birthday gift to Jesus at Christmas!'
How could Shashi give Jesus a gift? Shashi recalled Jesus words: 'Whatever you did for one of the least of these brothers and sisters of mine, you did for me.'
Shashi decided to give Maya, a 45-year-old survivor of human trafficking, two goats: 'As she received the gift, tears rolled down her cheeks… she had always wanted to rear her own goats… Owning them would not only mean income, but a sense of dignity and being part of the community.'
I shan't dwell on Marks and Spencer's pigs… I'm musing on the wonder of Hardy's oxen and the practical generosity of Sashi's goats.