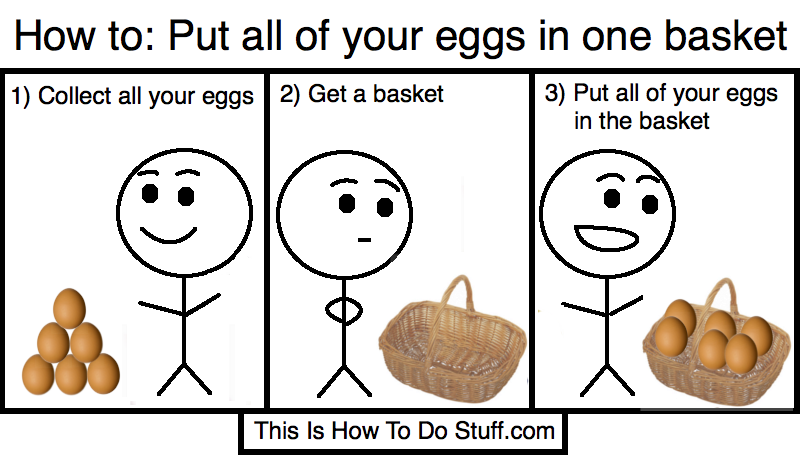 Lots of eggs… one basket… an accident… basket falling… broken eggs… tears… I told you so… All your eggs in one basket isn't wise…
My friend Bob had always wanted a juke-box. He bought a 1962 Wurlitzer that he had brought across from the United States. He lovingly refurbished it… His wife reminds him that he spent more on his juke-box than he did buying a new car…
All his financial eggs in one juke-box basket? Bob wouldn't change it.
45-50 years ago a number of friends committed themselves to each other 'till death do us part'. Did they mean it then? Of course…. All of these years later?… All of our eggs of love and life in one basket? We certainly wouldn't change it.
Yesterday I said: 'My brother Chris was told by his oncologist that he can expect to live for another year. It's made him refocus, re-examine priorities, considering personal, family, spiritual goals for the coming months….'
My friend Ann responded: 'We certainly need to… make the most of the time we have, in the most positive way we can, not easy when you feel as if you are on a limited time scale, but then that too can be a motivation in itself.'
Eggs-in-one-basket time.
Faith in general… my faith in particular… collects all my eggs – family, work, hobbies, finances, health, friends… and deliberately puts them in one basket.
Actor Will Smith said: 'There's no reason to have a plan B because it distracts from plan A.'
'Indiana Jones and the Last Crusade'… Facing the impossible, the sheer cliff edge and the great drop beneath him, Indiana He says: 'It's a leap of faith.' His father whispers: You must believe…'
Indiana looks straight ahead and slowly raises one foot into the empty air in front of him. With a thud his foot lands on the apparently invisible bridge.
Eggs in one basket? It's the step of faith.