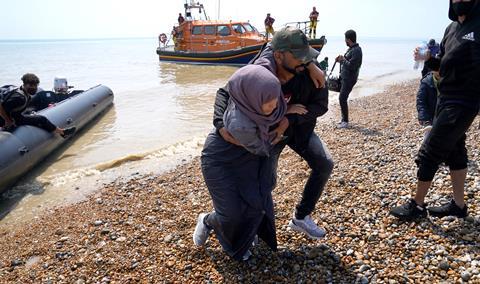 More pictures of migrants attempting to enter the UK… At least 8,452 people have crossed the English Channel in small boats this year; last Monday alone there were more than 430.
Musing… three extreme responses:
'Illegal immigrants! Our country's full; they're taking advantage of us!'
'These are people with extreme problems; we should help them.'
'It doesn't affect me here in East Anglia; I'm not that bothered.'
Last Tuesday, Home Secretary Priti Patel's new immigration bill was passed. By overhauling the asylum rules she hopes that migrants will be deterred from attempting to cross the Channel:
'The British people have had enough of open borders and uncontrolled migration. Enough of a failed asylum system that costs the taxpayer over a billion pounds a year, enough of dinghies arriving illegally on our shores, directed by organised crime gangs …'
Many would agree enthusiastically…
Refugee charities and campaign groups are concerned that the new bill could prevent many people who have fled war and persecution from being given safety in the UK, criminalising asylum seekers and anyone who looks after them.
Labour leader Sir Keir Starmer said it would '…make it harder to give a safe haven to children fleeing violence and war.'
Yesterday I read an article by Caroline Gregory who worked and lived with refugees in Calais and Dunkirk. Having lived alongside asylum seekers she says:
'I have got to know them and their stories intimately. The vast majority of asylum seekers that I have met in France over the last six years have experienced torture and abuse so shocking that it has left me with second-hand trauma just from hearing about it.'
Musing on the dangers of giving trite and easy answers to difficult questions…
Musing… Isaiah: 'Spend yourselves in behalf of the hungry and satisfy the needs of the oppressed'… Jesus: 'Love your neighbour as yourself'… Paul: 'In humility consider others better than yourselves'… 'What would Jesus do?'
Caroline Gregory's article can be read on: https://www.premierchristianity.com/opinion/priti-patels-new-immigration-bill-is-morally-wrong-any-christian-who-believes-in-love-your-neighbour-must-stand-against-it/5271.article?utm_source=Premier%20Christian%20Media&utm_medium=email&utm_campaign=12544183_Voice%20of%20hope%2026.07.2021&dm_i=16DQ,7GV5J,CAD3HC,UCWHM,1