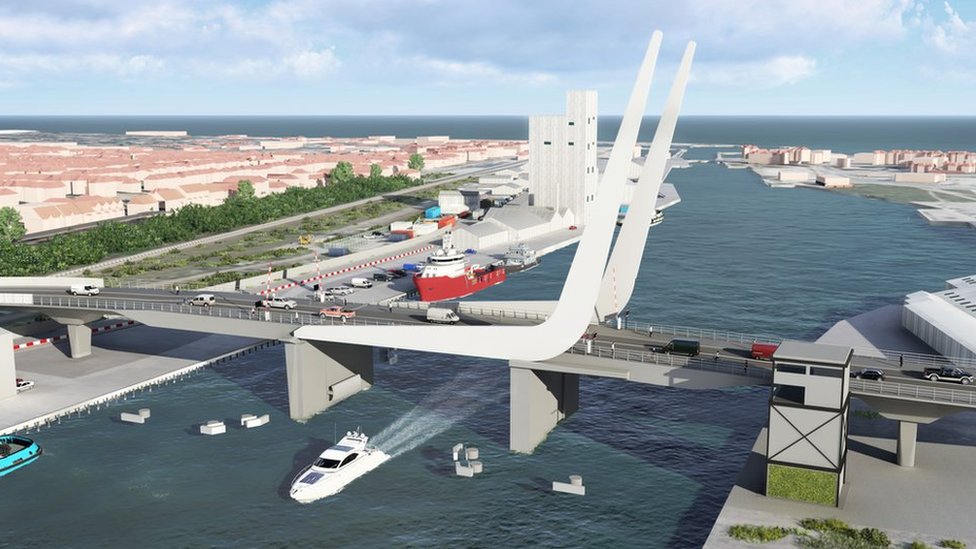 Today's Lowestoft Journal discusses the 'controversial plans to replace the beach huts on Lowestoft seafront' :
'The plans have divided opinion among locals, with some branding the designs "hideous" and "too modern" while others say they are "beautiful" and "just what Lowestoft needs".'
Then there's the plans for the third river crossing. My friend Jack did a school project on it 55 years ago!
Recently the Eastern Daily Press wrote that work has finally started 'after more than 100 years of waiting' on this 'iconic and important bridge'…'The new £126.75m Gull Wing bridge, which will cross Lake Lothing… is expected to open in the summer of 2023.'
Today we're told of plans to reopen shops, pubs, cafes, gyms, leisure centres and shops on Monday… to reopen the local tourist office and theatres… the next phase of the Lowestoft Flood Defence Project… and the exciting new drive through McDonalds!
We have personal plans… Yesterday Josh and Becca were sharing their wedding plans for next year; earlier this week Zak and Hannah were explaining their plans for university and college for September; today there are plans for Allan's birthday barbecue… and cake.
In the past week there have been anxieties about plans for future hospital visits, cancer tests, planned surgery… and people who can't face their future have considered taking their lives…
It's a strange tension, that's become even more apparent recently. We can't predict what our uncertain and fragile future will bring; yet, pretending and attempting to get it under our control, we make plans.
Coming to terms with this tension we find wisdom in Jesus' words: 'Do not worry about tomorrow, for tomorrow will worry about itself.'
Those with faith we are encouraged by: 'Do not worry, saying, 'What shall we eat?' or 'What shall we drink?' or 'What shall we wear'? …your heavenly Father knows that we need them.'
We trust Him in and with our future planning.