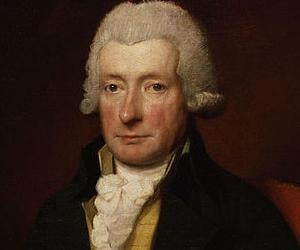 God moves in a mysterious way,
His wonders to perform;
He plants His footsteps in the sea,
And rides upon the storm.
Deep in unfathomable mines,
Of never failing skill
He treasures up His bright designs,
And works His sovereign will.
Poet William Cowper (1731-1800) wrote this old hymn as a poem entitled 'Conflict – light shining out of darkness.'
Cowper's mother died when he was 6 and he didn't relate well to his father. Although he trained in law he was never happy. He suffered from depression, attempting suicide on several occasions. He was admitted to St Albans insane asylum where he discovered faith.
He developed friendship with John Newton (of slave-ship and 'amazing grace' fame) who encouraged him to write and publish hymns with him. This was the last hymn he wrote.
Ye fearful saints, fresh courage take;
The clouds ye so much dread
Are big with mercy and shall break,
In blessings on your head.
Judge not the Lord by feeble sense,
But trust Him for His grace;
Behind a frowning providence,
He hides a smiling face.
Cowper tries to make sense of his own doubts and fears, writing of a sovereign, wise, good, ever-present God, whose mysterious ways work through dark storms and bitter pain.
Musing… Joseph (of technicolour dreamcoat fame) sums up his life to his brothers: 'You intended to harm me, but God intended it for good.'… Joseph had learnt to look at difficulties and problems in a different way, a bigger picture that he couldn't always see… 'God moves in a mysterious way…'
More recently Graham Kendrick has rediscovered the beauty and truth of this hymn, adding his refrain; he will trust this mysterious God.
And I will trust
The hands that made the starry heavens
And I will trust
The wounds of Calvary
And I will trust
And I will not be afraid
For all his ways are love