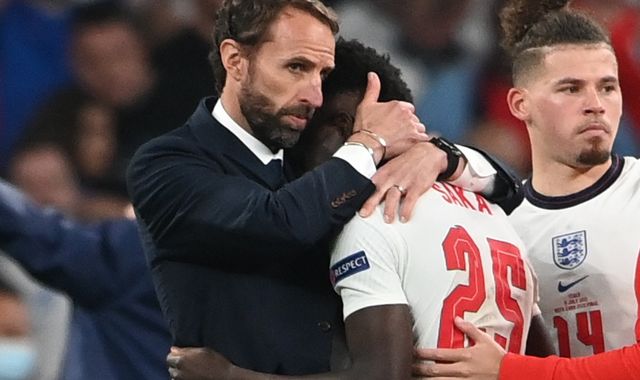 I watched the Euro final last night… taking the lead with the early goal, the excellent first half; the tough second half and the Italian equaliser; exciting extra time where it could have gone either way; defeat in the penalty shoot-out…
Musing… similarities between the Euros and our experience of Covid…
Unity: Both brought the nation together. Although we're not all on the front line we feel personally involved. We identify with those actively involved and want success. Most of the nation are emotionally involved, following daily progress with interest.
A minority upset the rest of us… those who refuse to observe social distancing, wear a face covering or receive vaccinations… the violence of drunk 'fans', continuing racial abuse. This minority increases unity for our common cause.
Expertise: There are national experts – Chris Whitty, Gareth Southgate… those who make important decisions. There are 'pundits' – experts who look on and evaluate, praise or criticise their decisions and actions.
We all become experts. Those with no previous knowledge or expertise suddenly become experts in health and football. We're all involved so we all know what should be done… 'He/They should have…'
Values: We re-examine our values. We've reflected on life and death. We consider dedication, pride, courage, humility, resilience, professionalism. We re-evaluate what money can buy, relationships, family, home… football's coming home?
We respect public figures who take responsibility. We re-consider success and failure. We rediscover empathy as we put ourselves in the places of those giving sacrificially, the suffering, hard working or those living with defeat.
Musing… I relate these to life and faith…I read this morning… 'He (God) heals the broken-hearted and binds up their wounds' (Psalm 147:3)
…and St Paul: 'Love must be sincere. Hate what is evil, Cling to what is good. Be devoted to one another in brotherly love. Honour one another above yourselves.' (Romans 12:9-10)
Musing …our unity, expertise, values… God's involvement in each…