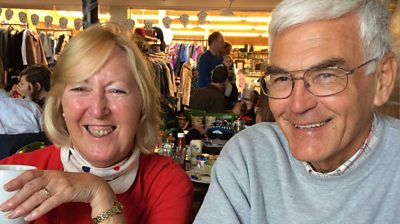 Jean's husband Trevor has dementia. She can only see him once a week for 30 minutes, at his Suffolk care home, due to the pandemic visiting restrictions.
Jean says the lack of interaction has affected her husband's illness: 'I call it torture of the heart. I took a vow and that was to have and to hold. And I can't be with him.'
She vowed 'I, Jean, take you, Trevor, to be my husband, to have and to hold from this day forward…' She meant it and still means it…
Musing… The traditional marriage vows speak beyond the marriage relationship; they're particularly relevant today….
To Have and to Hold… We need determined, dependable friends, who hold us physically, emotionally; we need to do our share of having and holding others.
For Better, for Worse…Life's unpredictable. We don't always get what we'd like or deserve. We rejoice with those going through 'better' times; we empathise with those going through 'worse'…
For Richer, for Poorer… Redundancies and unemployment bring financial challenges; Christmas priorities make us re-evaluate and redefine 'richer'. We all have riches that we can share with those who are poorer.
In Sickness and in Health… We value our health, accept sickness, anticipate vaccines, appreciate the NHS, consider exercise, fitness… We support those 'in sickness' with greater understanding.
To Love and to Cherish…. What's important is not we do, but the people we are. The continuing care and compassion we feel and act out as we cherish, value and appreciate others.
Till Death us do Part… The reality, certainty and closeness of death have taken on fresh meaning. We value life, respect death and weep with those parted by death.
According to God's Holy Law… There is something spiritual in our commitment to and dependency on others. My Christian faith believes in a loving, caring God who is involved in every aspect of our lives.