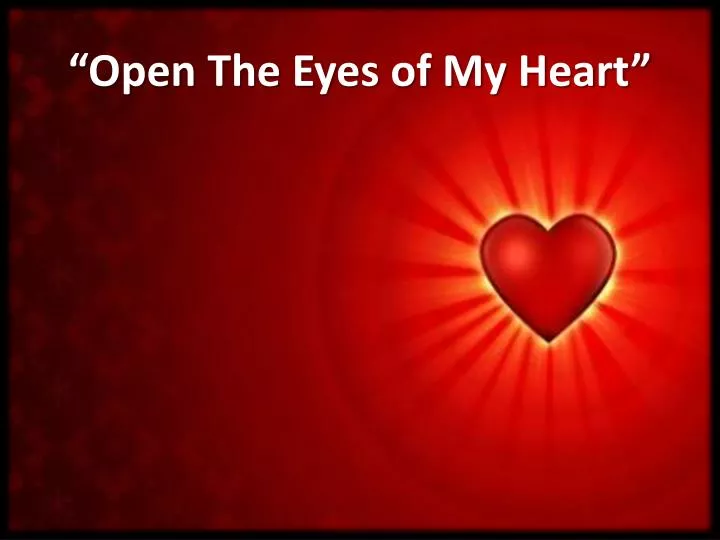 Church people do say some funny things: jargon, clichés, words said with a straight face that are thought to be deep and meaningful – that nobody understands.
One such is 'Open the Eyes of my Heart'- often said with serious emotion. So what the heck does it mean? My childish, but not too helpful, thoughts go to a cartoon-like, anatomically bizarre picture of a heart with an eye,
I was reminded this morning that this phrase was actually in the Bible: 'I pray that the eyes of you heart may be enlightened…' (Ephesians 1:18)
The heart (Greek word 'kardias') is the seat of the intellect and understanding. With the vast range of news and views about health, politics, economics we need enlightened hearts to think about and understand our world.
The heart is the seat of the emotions. The new lockdown will involve us all emotionally. Some will be anxious, others frustrated in changing situations with families, friends and employment… we need enlightened hearts of emotion.
The heart is the centre of our whole person and personality. We need open eyes regarding our own hearts, knowing ourselves and being personally aware; we need open eyes and an awareness of those around us – how they are coping psychologically, how tomorrow's world will affect their lives and livelihoods.
To change the metaphor… As I'm writing this the Sky engineer is here – putting a new receiver on our Sky dish, changing our internet… Perhaps 'open the eyes of my heart' is about having a new receiver fitted, receiving old or existing information in a new way to get better connection, better reception and a better picture.
The quotation continues: 'I pray that the eyes of your heart may be enlightened in order that you may know the hope to which he has called you…' The purpose of open, enlightened hearts is that we may have a hope-full future. And we all need that.